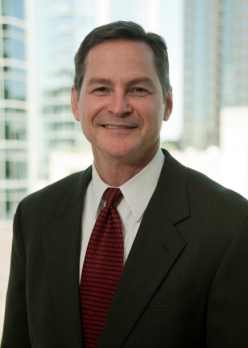 At the close of the Boston conference, the NAFUSA membership elected Matt Orwig to serve as its president for 2014-2015. Orwig is currently the Head of Litigation for Jones Day's Dallas office and a Partner in Jones Day's Business and Tort Litigation practice. Jones Day is a global law firm with roughly 2,400 lawyers across 41 offices. Prior to joining Jones Day, Orwig served as the Managing Partner of SNR Denton's Dallas office.
Before going into private practice, Orwig served in the U.S. Department of Justice for 20 years. He was appointed by George W. Bush as the U.S. Attorney for the Eastern District of Texas and served in that role from 2001-2007. Prior to his tenure as U.S. Attorney, Orwig was an Assistant United States Attorney in both the Northern and Eastern Districts of Texas.
Orwig focuses his practice on white-collar criminal litigation and investigations, SEC investigations (including insider trading and accounting fraud allegations), health care fraud and abuse, qui tam litigation, internal corporate investigations, complex civil litigation, litigation involving government agencies, and privacy and data security. Overall, he has more than 25 years of experience litigating complex civil and criminal cases, including high-profile money laundering, public corruption, securities fraud, insider trading, health care fraud, and civil and civil and criminal fraud cases.
Orwig has been selected to Best Lawyers in America, Texas Super Lawyers, Best Lawyers in Dallas, and Best Business Lawyers, and was recognized as the Alumnus of the Year in 2007 by the Texas Tech University School of Law. He also serves as a Life Fellow of the Dallas Bar Foundation
Orwig graduated from Texas Tech University and received his law degree from Texas Tech University School of law. Following his graduation, he clerked for the Honorable Chief Judge Halbert O. Woodward of the U.S. District Court of the Northern District of Texas.