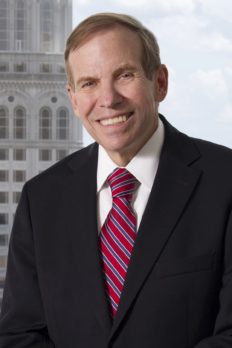 Smith Moore Leatherwood LLP announced the addition of former North Carolina Supreme Court Justice, and NAFUSA member, Robert H. Edmunds Jr. Edmunds to the firm's appellate group effective July 1, 2017.
"We are thrilled to have Justice Edmunds joining our practice," said Matt Leerberg, appellate practice group leader. "Justice Edmunds has a proven dedication to the rule of law and is renowned for his commitment to excellence. Our clients will benefit greatly from his insights into the appellate process and his keen strategic mind. The addition of Justice Edmunds solidifies the Smith Moore Leatherwood appellate team's place as one of the most respected practices in the state."
Edmunds served as a Justice on the Supreme Court of North Carolina from 2001 through 2016. Prior to his election to the Supreme Court, he began his legal career as an assistant district attorney in Greensboro, N.C. and later was an assistant United States attorney for the Middle District of North Carolina. In 1986, he was appointed United States Attorney for the Middle District of North Carolina by President Ronald Reagan and was retained by President George H. W. Bush. Edmunds entered private practice in 1993 and earned the highest rating from Martindale-Hubbell Law Directory. While in private practice, he was board certified as a specialist in state and federal criminal law, and board certified as a specialist in appellate practice. In 1998, he was elected to the North Carolina Court of Appeals and served on that court until his election to the Supreme Court.
"I've been privileged to serve in various roles across the state over the course of my legal career," Edmunds said. "I've seen first-hand the work of Smith Moore Leatherwood attorneys and know why they enjoy such an outstanding reputation. I'm honored to join them and look forward to working with these talented lawyers to expand the firm's appellate practice."
Edmunds serves on various boards and committees and frequently contributes his time to the community. He is a member of the board of directors of BarCares and of the North Carolina Supreme Court Historical Society. He is also an elected member of the American Law Institute. Previously, he has been an adjunct professor at Campbell University School of Law. Edmunds is a member of the Greensboro Rotary Club and has donated blood more than 100 times since college.
Edmunds received his A.B. degree from Vassar College and his J.D. from the University of North Carolina School of Law. Following law school, he served as a line officer in the United States Navy from 1975 to 1977. He later received his Master of Law in the Judicial Process from the University of Virginia School of Law.
Smith Moore Leatherwood LLP has seven offices and more than 160 attorneys across North Carolina, South Carolina and Georgia. The firm's core practice areas are focused on litigation, business law, health care, real estate, labor and employment, and tax. Additional practice teams include intellectual property, tax, banking and finance, antitrust, business torts, financial services litigation, appellate, land use and zoning, economic development, and transportation.For more information about the firm and its attorneys, visit www.smithmoorelaw.com.