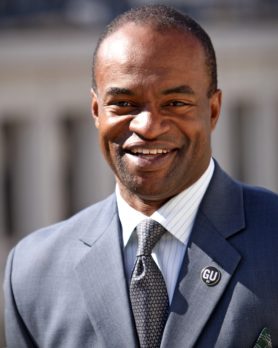 NAFUSA's 2017 conference will be held at The Mayflower Hotel in Washington, DC on October 18-20, and De Maurice Smith will be the keynote speaker on the final night at the annual meeting and dinner. Smith is the Executive Director of the National Football League Players Association (NFLPA).
On August 4, 2011, Smith signed a 10-year Collective Bargaining Agreement with NFL management, leading the Players through the owners' 132-day lockout. The new CBA codifies new health and safety protocols for Players, achieved longer off-seasons, significantly reduces the amount of contact during practices, provides for unannounced inspections of training camps, creates the first compliance and accountability structure for NFL medical personnel, and provides the Players' with their highest share of TV contract revenues in history.
Prior to his post at the NFLPA, Smith was an Assistant United States Attorney in the District of Columbia and was Counsel to then-Deputy Attorney General Eric H. Holder, Jr. After Government service, Smith served as a Partner in the law firms of Latham & Watkins, LLP and Patton Boggs, LLP, in Washington, D.C. where he represented corporations, boards of directors and senior executives in civil and criminal matters.
Mr. Smith is a 1989 graduate of the University of Virginia School of Law and a 1985 graduate of Cedarville University. He resides in the Washington DC metropolitan area with his wife and two children.