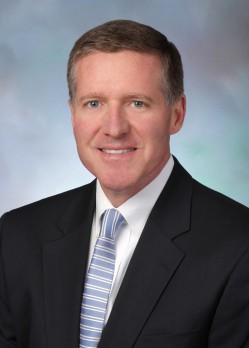 Davis Polk announced on June 27, 2017, that NAFUSA board member Kenneth L. Wainstein will join the firm as a partner in its Litigation Department in Washington DC. He will join fellow NAFUSA board member Neil MacBride and NAFUSA member Bob Fiske at Davis Polk.
Wainstein will focus on white collar criminal defense matters and internal and government investigations. He comes to Davis Polk from Cadwalader, Wickersham & Taft LLP, where he served as Co-Chair of the Global Litigation Group and Chair of the White Collar Defense and Investigations Group.
Prior to his tenure in private practice, Wainstein served for two decades in senior positions at the White House and throughout the U.S. Department of Justice.
"Ken is an important addition to our first-rate white collar group as we continue to strengthen our investigations and enforcement capabilities," said Thomas J. Reid, Davis Polk's Managing Partner. "Ken brings extensive, varied and high-level government and trial experience that our clients value greatly. We are thrilled to welcome him to the firm."
Wainstein began his career as an Assistant U.S. Attorney in the Southern District of New York, and later the District of Columbia. In his 12 years as a line prosecutor and supervisor, he handled numerous prosecutions, tried 25 jury trials and presented more than a dozen appellate arguments. In 2001, Wainstein was appointed Director of the Executive Office for U.S. Attorneys.
Mr. Wainstein also served as General Counsel of the Federal Bureau of Investigation and as Chief of Staff to the Director.
He was appointed U.S. Attorney for the District of Columbia in 2004. There he oversaw many high-profile white collar and corruption matters, including the case against Riggs Bank for Bank Secrecy Act violations and the prosecution of MZM's Chief Executive for paying bribes to former Congressman Duke Cunningham.
In 2006, Wainstein became the first Assistant Attorney General for National Security, leading the Justice Department's National Security Division. Most recently, he was the Assistant to the President for Homeland Security and Counterterrorism, coordinating the nation's counterterrorism, homeland security, infrastructure protection, and disaster response and recovery efforts.
In recognition of his work at the Justice Department, Wainstein received the Edmund J. Randolph Award for outstanding service, and twice was presented with the Director's Award for Superior Performance.
Kenneth Wainstein said, "Davis Polk has a stellar reputation in the white collar space, and I am excited to join a firm I have always held in such high regard, both during my public service and in private practice. I look forward to working alongside this team of superb colleagues."
"Ken is a fantastic lawyer with impeccable judgment, and is even more impressive than his credentials suggest," said Neil MacBride, co-chair of the firm's White Collar Criminal Defense and Government Investigations Group. "His outstanding track record in white collar and congressional investigations will be a tremendous asset to the firm and our clients."
Davis Polk & Wardwell LLP (including its associated entities) is a global law firm with offices strategically located in the world's key financial centers. For more than 165 years, our lawyers have advised industry-leading companies and global financial institutions on their most challenging legal and business matters. Davis Polk ranks among the world's preeminent law firms across the entire range of its practice, which spans such areas as capital markets, mergers and acquisitions, credit, antitrust and competition, litigation and enforcement, private equity, tax, financial regulation, investment management, insolvency and restructuring, executive compensation, FinTech, intellectual property and technology, real estate, and trusts and estates. Davis Polk has more than 900 lawyers in offices located in New York, Northern California, Washington DC, São Paulo, London, Paris, Madrid, Tokyo, Beijing and Hong Kong. For more information, please visit: http://www.davispolk.com.