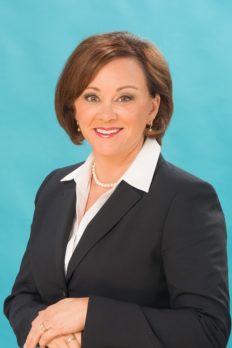 NAFUSA life member and former director Alice Martin announced on June 13, 2017, that she is running for Attorney General of the State of Alabama. See Martin Announces Run for Attorney General
Martin served as the United States Attorney for the Northern District of Alabama 2001-2009. Martin was best known for her successful prosecution of Eric Robert Rudolph, the FBI's #1 most wanted domestic terrorist responsible for an abortion clinic bombing in Birmingham (and Olympic Park in Atlanta); the $2.8B accounting fraud of HealthSouth; and for establishing the North Alabama Public Corruption Task Force which obtained 140 corruption convictions. Notable corruption investigations involved Alabama's 2-year college scandal and the Jefferson County sewer system which lead to the largest government bankruptcy in U. S. history.
During her eight years as U.S. Attorney, Martin was a member of the Attorney General's Advisory Committee, and chaired its sub-committee on Healthcare Fraud Task Force. Her healthcare fraud task force in Northern Alabama collected over $750M in recoveries and employed the first use of extrapolation for damage calculation. She was the first to prosecute a violation of Sarbanes-Oxley. She was named "Top 10 Prosecutor in the U. S." by Corporate Fraud Reporter, and won the IRS's highest award given to a non-agency employee for her service in HealthSouth.
Martin most recently served as the Chief Deputy Attorney General to Luther Strange before his appointment to the U. S. Senate by Governor Robert Bentley. Martin served on the prosecution team that convicted Alabama House Speaker Mike Hubbard last year. Martin was leading the criminal investigation of Governor Bentley, who faced impeachment, until Bentley appointed an attorney general. She then resigned to run for AG in the June 2018 primary. Bentley has since resigned in exchange for a misdemeanor plea.
Martin is currently a Deputy Attorney General for the fiscal watchdog of Alabama, the Department of Examiners of Public Accounts. She is a certified by the Association of Certified Fraud Examiners and a frequent speaker on fraud investigations. In her previous government service Martin served for 6 years as a federal prosecutor in the Western District of Tennessee. She also has previously served as a Circuit Court Judge in Alabama.
Between public service Martin enjoyed private sector legal work specializing in insurance defense litigation, white collar investigations and healthcare regulatory compliance. She has served in house as a VP- Ethics and Compliance for a multi-state hospital management company. She is certified in healthcare compliance (CHC) and healthcare privacy (CHPC). She is licensed in Alabama, Mississippi, and Tennessee.
Martin earned her J.D. in 1981 from the University of Mississippi., and her Bachelor of Science in Nursing from Vanderbilt University in 1978. She worked as a RN during law school. She is married to Louis Martin and they have three daughters. See www.alicemartin.com for more information.
.