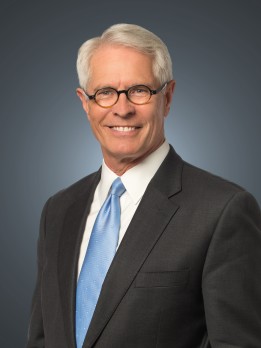 NAFUSA President Bart Daniel announced that B. Todd Jones has resigned from the NAFUSA Board of Directors and that the Board has named Barry Grissom (Kansas, 2010-2016) to fill the vacancy in the class of 2018.
Grissom stepped down in April of 2016 as the U.S. Attorney for the District of Kansas and joined Polsinelli's national White Collar Defense and Government Investigations and Compliance – Civil and Criminal Practice. Grissom is a shareholder in its Kansas City headquarters office.
Grissom served on the Attorney's General Advisory Committee (AGAC). As a member of the AGAC, Grissom contributed to efforts to reform the federal criminal justice system through the Smart on Crime initiative. He also served on several sub-committees, including Financial Fraud, Health Care Fraud Prevention & Enforcement Team, Terrorism & National Security (Cyber), Native American Issues and Civil Rights.
Prior to his work as U.S. Attorney, Grissom was in private practice law for 27 years in both state and federal court, with involvement at every level of complex government litigation matters.
Grissom earned a Bachelor's Degree from the University of Kansas before obtaining his law degree from Oklahoma City University School of Law.