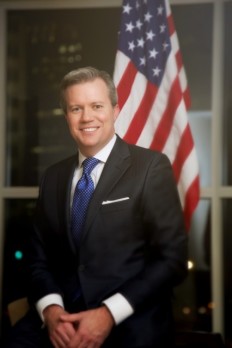 NAFUSA's newest life member, Michael Moore, joined Pope McGlamry in its Atlanta office in December 2015. Moore's practice focuses in the areas of qui tam/false claims litigation, significant fraud and tort cases, and white collar matters.
Moore was appointed by President Obama in 2010 to serve as the United States Attorney for the Middle District of Georgia. As U.S. Attorney, Mr. Moore targeted violent crimes, human trafficking, and public corruption. During his time as the chief federal prosecutor, he oversaw the prosecution of national food safety cases, resulting in record-setting prison sentences for corporate executives and the largest criminal fine ever imposed against a corporation for food safety violations. Mr. Moore took an active role in civil rights matters, overseeing numerous cases involving the brutal mistreatment of arrestees and prison inmates and personally mediated a landmark settlement guaranteeing adequate representation for children and individuals in the Superior Courts.
Moore is credited with growing the false claims practice in the Middle District of Georgia, increasing recoveries for the Government by over 8000 percent during his tenure. His efforts resulted in multi-million dollar settlements and made the Middle District of Georgia a leader in combatting health care fraud.
As United States Attorney, Moore served on the Terrorism and National Security Subcommittee, the Health Care Fraud Working Group, the Criminal Practice Subcommittee, and the White Collar/Fraud Subcommittee, all part of the Attorney General's Advisory Committee.
Prior to his service with the Department of Justice, and following his time as a state prosecutor, Moore practiced privately, representing clients in both civil and criminal matters throughout the state.
Moore is a former member of the Georgia Senate, where he served on the Appropriations, Judiciary, Transportation, and Defense Committees.