Former NAFUSA President Jim Robinson died six years ago on August 6, 2010. The DOJ Criminal Division remembered Jim in This Week in the Criminal Division Bulletin (August 22,2016).
SPOTLIGHT ON JAMES K. ROBINSON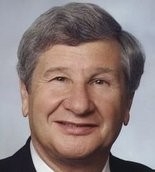 James K. Robinson served as Assistant Attorney General of the Criminal Division from 1998 to 2001.
Mr. Robinson was born in Grand Rapids, Michigan, in 1943.  He graduated from Michigan State University and earned a law degree from Wayne State University in Detroit in 1968.  Mr. Robinson then clerked for Judge George Edwards of the United States Court of Appeals for the Sixth Circuit.  He subsequently became an associate at a Detroit law firm and later a partner at another, where he specialized in litigation.
In 1975, Mr. Robinson began service on the five-member committee of the National Conference of Bar Examiners that drafts the evidence questions for the Multistate Bar Exam.  In 1977—at the age of 33—he was named United States Attorney for the Eastern District of Michigan, which had one of the heaviest caseloads in the nation at that time.  In 1981, Mr. Robinson returned to his Detroit law firm, Honigman, Miller, Schwartz & Cohn.  While in private practice, he chaired the committee that drafts the Michigan Rules of Evidence and he co-authored a three-volume treatise and a courtroom handbook on the rules of evidence.
Mr. Robinson was named Dean and Professor of Law at the Wayne State University Law School in 1993.  That same year, Chief Justice William Rehnquist appointed him to the Advisory Committee on the Federal Rules of Evidence.
In August 1995, Assistant Attorney General Jo Ann Harris resigned her position in the Criminal Division.  For almost three years, John C. Keeney served as Acting Assistant Attorney General until President Bill Clinton nominated Mr. Robinson in April 1998.  Mr. Robinson faced a skeptical Senate Judiciary Committee at his nomination hearing.  The Committee expressed dissatisfaction with the uneven prosecution of narcotics offenses, leaks of grand jury material, and potential prosecution of elected officials for purportedly political reasons.  The Washington Post reported that Mr. Robinson "deflected the thunder by promising to apply the law even-handedly."  He was confirmed a few months later.  As Assistant Attorney General, Mr. Robinson increased the Division's focus on transnational crime and stationed attorneys at U.S. Embassies throughout the world.  He also helped expand the Division's resources for drug trafficking and computer crime.
Mr. Robinson left the Division in 2001 and became a partner at Cadwalader, Wickersham & Taft in Washington, D.C.  From 2001 to 2002, he was retained as a consultant by the United Nations Center for International Crime Prevention in Vienna to conduct a global study on the transfer of funds of illicit origin with respect to the negotiation of the United Nations Convention Against Corruption.
On August 6, 2010, Mr. Robinson died at the age of 66 of cancer.  He left behind two children, five grandchildren, and his widow, Marietta "Marti" Robinson, who is now a commissioner with the Consumer Product Safety Commission.  In a condolence letter to Mrs. Robinson, then-Attorney General Eric Holder wrote, "As Assistant Attorney General, Jim embodied the steady and steely resolve under pressure that we need and expect from our public servants.  Every action that he took, and every decision that he made, reflected his singular desire to do justice and serve the people of this nation."
[Photo: Grand Rapids Press]