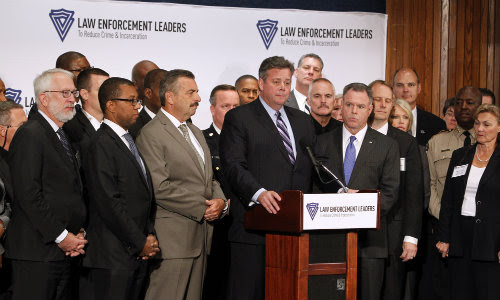 At a press conference in Washington on Wednesday, October 21, 2015, 130 police chiefs, current and former prosecutors, sheriffs and attorneys general from all 50 states, announced the formation of a new group, Law Enforcement Leaders to Reduce Crime and Incarceration, to push reforms to reduce incarceration and strengthen public safety. The group was organized by the Brennan Center for Justice at New York University School of Law, and includes the police chiefs from six of the largest U.S. cities, including New York, Los Angeles, Chicago, Washington, Houston and New Orleans. It also included 22 NAFUSA members, led by Walter Holton, who serves on the Steering Committee for the group. By clicking on the link above, you can see a full list of the 130 members, a Statement of Principles, and additional information. The public launch made the front page of Wednesday's The New York Times, Police Leaders Join Call to Cut Prison Rosters.
The group announced its priorities as follows:
"Members of the group will work within their departments as well as with policymakers to pursue reforms around four policy priorities:
Increasing alternatives to arrest and prosecution, especially mental health and drug treatment. Policies within police departments and prosecutor offices should divert people with mental health and drug addiction issues away from arrest, prosecution, and imprisonment and instead into proper treatment.
Reducing unnecessary severity of criminal laws by reclassifying some felonies to misdemeanors or removing criminal sanctions, where appropriate.
Reducing or eliminating mandatory minimum laws that require overly harsh, arbitrary sentences for crimes.
Strengthening ties between law enforcement and communities by promoting strategies that keep the public safe, improve community relations, and increase community engagement."
On Thursday, October 22, the group met at The White House with President Obama and Attorney General Lynch. The President joined a panel discussion, moderated by Bill Keller, the former Editor of The New York Times, with AGAC Chair John Walsh and Chief Charlie Beck of the Los Angeles Police Department. Click here to view a video of the conversation with the President at The White House. Walter Holton was joined at the two day session in DC by NAFUSA members Zach Carter, Rick Deane, Doug Jones, Brad Pigott, Rich Pocker, Rich Rossman and  Greg Vega. Some of the NAFUSA attendees are shown below with former Attorney General Ed Meese. Other NAFUSA members who have joined the group but who were unable to attend the Washington sessions were: Ed Dowd, Bob Fiske, Hal Hardin, Tim Heaphy, Brendan Johnson, Todd Jones, Matt Orwig, Tim Purdon, William Shaheen, Don Stern, Brett Tolman, Ed Warin, Don Washington and William Wilmoth.