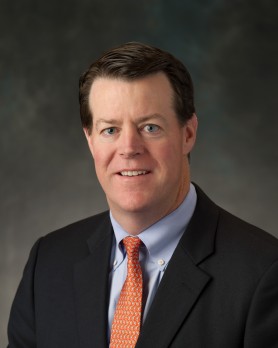 NAFUSA board member and life member Kevin J. O'Connor has joined Point72 Asset Management as General Counsel, Point72 CEO Steve Cohen and President Doug Haynes announced on May 6, 2015.
"I am excited to join Point72 and its outstanding management team," O'Connor said. "What made this opportunity so compelling was Steve and Doug's clear commitment to continue doing what is necessary to build a world-class legal function that will help ensure that Point72 adheres to the highest ethical standards yet maintains its excellent performance. I look forward to being part of such a worthy endeavor."
O'Connor began his legal career clerking for the Hon. William H. Timbers of the United States Court of Appeals for the Second Circuit and subsequently joined the SEC, where he investigated securities fraud cases on behalf of the government.
After his service with the SEC, O'Connor returned to Connecticut and practiced law, becoming a partner at the then firm of Day, Berry & Howard in 2001. In 2002, he returned to public service when President George W. Bush nominated him to serve as the U.S. Attorney for Connecticut, a position for which he was unanimously confirmed by the United States Senate.
O'Connor served as U.S. Attorney until 2008 when President Bush nominated him to serve as Associate Attorney General, the third-highest ranking position at the DOJ in Washington, D.C. O'Connor was unanimously confirmed again by the Senate and served in that position until 2009.
While at DOJ, O'Connor also served, at the request of the Attorney General as Associate Deputy Attorney General and as Chief of Staff to the Attorney General.
In addition to his public service, O'Connor has a decade of private law firm experience, most recently serving as a partner in Bracewell & Giuliani, where chaired the firm's white collar practice.
O'Connor graduated with High Honors from the University of Connecticut School of Law in 1992 and earned his BA with Honors from the University of Notre Dame in 1989. He is involved in many non-profit organizations, serving as Vice Chair of the Board of St. Francis Hospital and Medical Center, and the Ethics Resource Center.
Point72 Asset Management is a family office managing the assets of its founder, Steven A. Cohen, and eligible employees. Point72 primarily invests in discretionary long/short equities and makes significant quantitative and macro investments. The Firm's long/short investment divisions are Point72 Asset Management and EverPoint Asset Management. Cubist Systematic Strategies is its quantitative business, Rubric Capital is its deep value, multi-strategy business, and Honeycomb Ventures is its high-growth, technology-focused venture capital investing business. The Firm is headquartered in Stamford, Connecticut, and maintains offices in New York, Hong Kong, Tokyo, and Singapore. Point72 Asset Management, L.P. is a family office and does not seek, solicit or accept any external investments. www.Point72.com