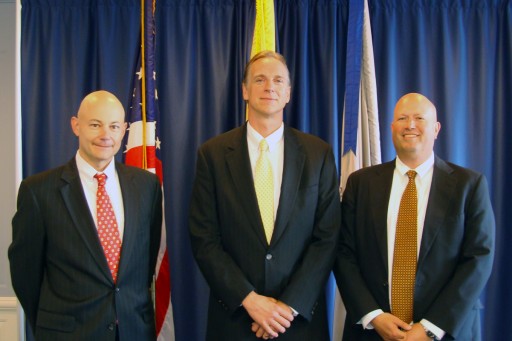 The NAFUSA 2014 Bradford Award winners, Steven Sanders, John Gay, and Joseph Minish (shown above at the NAFUSA Boston conference), were recognized by Monty Wilkinson, Director of EOUSA, with the Director's Award for Superior Performance as a Criminal AUSA. This award reflects outstanding litigative accomplishments in the areas of violent crime, terrorism, public corruption, child exploitation, and various forms of fraud.
At a ceremony at Main Justice in June, the program included the following:
John Gay, Joseph N. Minish, and Steven G. Sanders (District of New Jersey) are recognized for their outstanding performance in the investigation and prosecution of Paul Bergrin, a former state and federal prosecutor. Bergrin used his law practice as a RICO enterprise through which he and others committed a series of racketeering acts.  The outstanding work of Mr. Gay, Mr. Minish, and Mr. Sanders culminated in a two-month jury trial that resulted in convictions on all 23 counts of the indictment, including murder of a witness, conspiracy to murder a different witness, RICO, RICO conspiracy, violent crimes in aid of a racketeering enterprise, conspiracy to distribute narcotics, and a variety of other substantive crimes related to the distribution of narcotics and the operation of a prostitution business.  Bergrin was sentenced to life in prison on September 23, 2013.