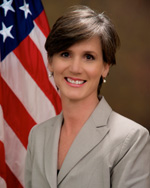 On May 13, 2015, the Senate voted 84-12 to confirm Sally Yates as deputy attorney general. She has held the post on an acting basis since January. She previously served as the United States Attorney for the Northern District of Georgia, confirmed on March 10, 2010, and as the vice chairwoman of the the Attorney General's Advisory Committee (AGAC). She is a graduate of the University of Georgia School of Law. Yates replaced James Cole, who spent over four years as DAG before resigning at the beginning of the year.
Attorney General Loretta E. Lynch released the following statement on the confirmation of Sally Quillian Yates as Deputy Attorney General:
I am pleased to congratulate Sally Yates on her confirmation as Deputy Attorney General – a vital position she has already held in an acting capacity and in which I am confident she will continue to excel.  I thank the members of the United States Senate for their prompt action on her nomination.

At every stage of her career, Sally has demonstrated her dedication to the rule of law, her devotion to the cause of justice and her commitment to all those whom the law protects and empowers.  Her leadership and her skill have earned her the respect and the trust of law enforcement professionals at every level.  And her exemplary work on a wide range of issues – from combating public corruption to prosecuting acts of terrorism – has proven that she is equal to any task.

During the time we served together as U.S. Attorneys and through these first few weeks of my tenure as Attorney General, Sally has been an indispensable ally, an outstanding professional, and a judicious and expert advisor.  I congratulate her once again on her confirmation, and I look forward to all that the Department of Justice will continue to achieve with the help of her exceptional leadership.