On May 16, 2015, the NAFUSA officers and board members met in Nashville for their annual Spring meeting. The meeting was held at The Hermitage Hotel. As is the custom, members paid their own travel and hotel expenses.
President Matt Orwig reported on the early plans for the Scottsdale conference to be held on October 15-17 at The Phoenician. Registration is expected to begin in July. NAFUSA has nine sponsors for the conference, with more expected. A full list of sponsors can be found on the NAFUSA website and in each monthly newsletter.
Executive Director Rich Rossman reported that NAFUSA has 266 active members, including 60 life members (the latest being David Iglesias) and 24 senior members. Unfortunately 33 members have yet to pay their current dues, which were payable by February 28, 2015.
President Elect Greg Vega advised that the 2016 conference will be held on October 6-9, 2016, in San Diego at the Hotel Del Coronado.
The Board is shown in the photo below during their Saturday morning meeting at the hotel.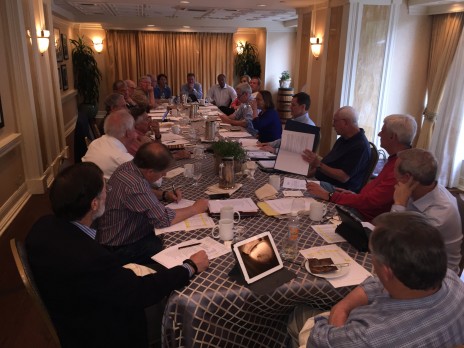 On the evening before the meeting, they enjoyed a boat cruise on the General Jackson Showboat on the Cumberland River. They were joined by Magistrate Joe Brown and his wife, Marilyn, Ed and Cindy Yarbrough, and Russ and Betty Dedrick. Joe, Ed and Russ are NAFUSA members in Tennessee, invited to join the board for the social events of the weekend.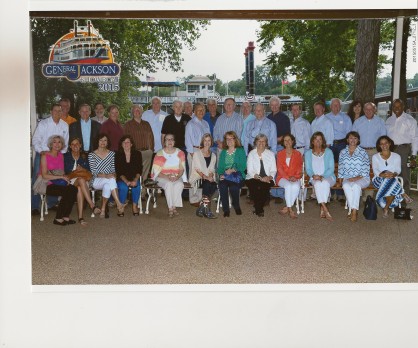 Shown in the photo above (click on photo for a larger image):
Seated: Melissa Orwig, Ann Stevens, Susan Adzick, Patty Rossman, Marilyn Brown, Sue Farus, Cheryl Leone, Erica Stern, Julie Stephens, Cindy Daniel, Alice Martin, Yvonne Washington
Standing: Matt Orwig, Russ Dedrick, Chuck Stevens, Bob Cleary, Doug Jones, Bob Miller, Hal Hardin, Joe Brown, Rich Rossman, Greg Vega, Don Stern, Bill Leone, Terry Flynn, Jay Stephens, Jack Selden, Bart Daniel, Ken Wainstein, Ed Yarbrough, Cindy Yarbrough, Louis Martin, Don Washington
The social events began with a Thursday night performance of Grand Ole Opry Classics at Ryman Auditorium, golf on Friday morning, and closed with a reception hosted by Hal Hardin at his office, as shown below.