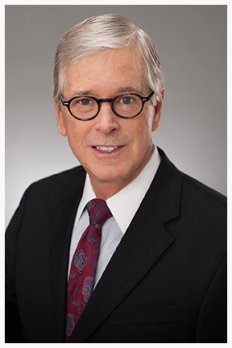 NAFUSA member Don DeGabrielle has joined the Government Investigations & White Collar Criminal Defense section of Chaffe McCall, L.L.P in Houston.
As a 35-year veteran of legal services, DeGabrielle's experience includes defending a wide range of white collar criminal matters including violations of the Foreign Corrupt Practices Act (FCPA), healthcare fraud, immigration worksite enforcement matters, intellectual property and data intrusion statues. He has worked with clients on securities, compliance and corporate governance matters, criminal anti-trust statutes, bank and insurance fraud, and environmental regulations. He has also represented clients who have been victims of embezzlement and extortion.   His career in federal law enforcement includes service as a Special Agent with the FBI, an Assistant District Attorney, an Assistant U.S. Attorney, and U.S. Attorney for the Southern District of Texas. He has prosecuted matters involving public corruption, white-collar and environmental crimes, bank fraud, and general criminal and narcotics offenses.
DeGabrielle was appointed by President George W. Bush in 2006 and sworn in as the United States Attorney for the Southern District of Texas. Prior to this time he served as First Assistant U.S. Attorney, Chief of the the Criminal Division and held an assignment with the Public Integrity Unit. He spent a year as the Resident Legal Advisor to the South African National Directorate of Public Prosecutions, where he served as a consultant and advisor for rule of law and criminal justice development. In addition to his tenure as the U.S. Attorney, he served as an Assistant District Attorney in New Orleans, where he prosecuted more than 150 jury trials and also served as a former FBI Special Agent in New York and New Orleans.
Chaffe McCall is a full service law firm with a rich history of serving clients regionally, nationally, and internationally to address the challenges they face in numerous industry areas. Founded in 1826, Chaffe McCall LLP is Louisiana's oldest law firm, with offices in Houston, New Orleans, Baton Rouge, and Lake Charles.