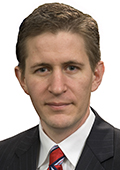 Robins Kaplan LLP announced on Monday, March 16, 2015,  that Brendan Johnson, shown left, former U.S. Attorney for the District of South Dakota, and Tim Purdon, shown below, former U.S. Attorney for the District of North Dakota, have joined the firm. They will open and head the firm's newest offices in Sioux Falls, S.D., and Bismarck, N.D. Johnson and Pardon are also NAFUSA's newest members, both having joined this week.
Johnson and Purdon join as partners in the firm's Government and Internal Investigations Group, and will also focus on further developing the firm's work with American Indian Tribes. They both join the firm's Personal Injury Group as well, and Johnson will also focus his practice on commercial litigation.
"We are thrilled to welcome Brendan and Tim to Robins Kaplan, and couldn't envision two more qualified lawyers to expand our national internal investigations and white-collar crime capabilities, as well as our work on behalf of tribal communities," said Martin Lueck, Chairman of Robins Kaplan's Executive Board.
As South Dakota's top federal prosecutor for five and a half years, Johnson managed a broad range of cases including financial and healthcare fraud, public corruption, violent crime, narcotics, and trafficking. Frequently praised for his work against human trafficking, he was the recipient of the 2014 Shared Hope International Pathbreaker of the Year Award, and more than 30 men were prosecuted for criminal sex trafficking under his watch, resulting in more life sentences than any other federal district. Johnson also was heavily involved in the state's Indian Country, developing a community prosecution strategy that helped increase prosecutions by more than 90 percent on South Dakota's largest reservations.
Purdon, appointed U.S. Attorney in August 2010, managed a broad range of cases, and—similar to Johnson—focused much of his work on combatting sex trafficking and violent crime. He designed an anti-violence strategy for North Dakota Indian reservations, which markedly improved communications between the U.S. Attorney's office and the tribes while increasing reservation prosecutions district-wide by more than 80 percent. He also designed and implemented the U.S.A.O.'s victim-centered strategy to counter the increasing threat of sex trafficking in North Dakota.
Both Johnson and Purdon were nominated by President Barack Obama and unanimously confirmed by the U.S. Senate. They each spent time in private practice before joining the Department of Justice.
"As a longtime colleague and friend, I couldn't be more excited to continue my partnership with Tim at Robins Kaplan," said Johnson. "We look forward to bringing our experience to clients nationally, as well as in North Dakota and South Dakota."
"Throughout my 20-year career as an attorney—both in private practice and as U.S. Attorney—I've worked hard to protect the people of North Dakota. The opportunity to continue that mission with the great attorneys at Robins Kaplan and with my close friend Brendan has me excited about the next chapter in my career," added Purdon.