A memorial service was held yesterday in Jackson, Mississippi, for George Landon Phillips, former United States Attorney, 1980-1994, who passed away on January 26, 2015. (See January 27 obituary posted below). Mississippi Governor Phil Bryant was the keynote speaker. NAFUSA member James Tucker spoke at the service and presented to George's wife, Nicole, the American flag that flown over Main Justice in George's honor.
In the photo shown below, Tucker is making his presentation and the flag, within its case, can be seen sitting on the chair.
In the next photo, Tucker is presenting the flag to Nicole Phillips. It has been a NAFUSA tradition upon the death of a former U.S. Attorney to arrange with EOUSA to have flag flown over Main Justice in his or her honor, then boxed in a beautiful display case and presented to the family. This tradition began during the time when Marshall Jarrett was the director of EOUSA and has continued under Director Monty Wilkinson. Our special thanks to Im Saovaluk at EOUSA for her special assistance in making this happen.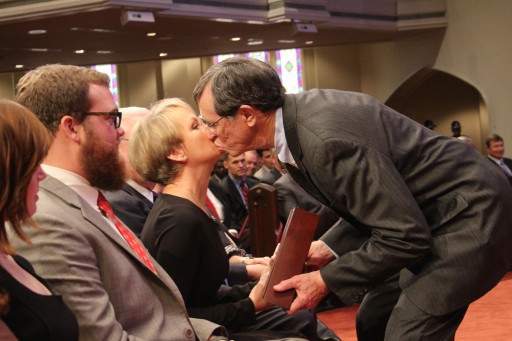 In the final photo, a group of U.S. Attorneys are attending an LECC subcommittee meeting of the AGAC several years ago.