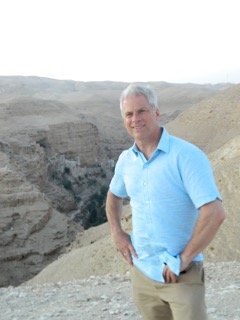 NAFUSA lifetime member John McKay reported in from Ramallah, Palestine, where for the past two years he has headed the U.S. State Dept. (INL) rule of law program supporting Palestinian public prosecutors, police and security services.
U.S. government support for a two-state solution in the region includes strengthening Palestinian justice sector and law enforcement, including crime scene investigations, cybercrime enforcement, leadership training for Chief Prosecutors and case management systems for police, prosecution and security forces.
"Working in Palestine to support human rights based training and applying skills learned while serving as U.S. Attorney has been among the most rewarding assignments of my life," McKay said.
Leading a team of 50 Palestinian lawyers, former police officers and technologists in the Justice Sector Assistance Project for Palestine, McKay intends to return to his full time teaching position on the law faculty of Seattle University in fall, 2015.
In the first photo below, McKay is at the podium addressing Palestinian law students preparing for the International Jessup Moot Court tournament, for which he provided support and training.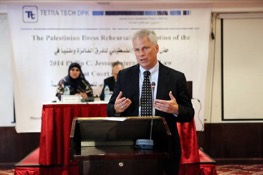 McKay took the Palestinian Attorney General to DOJ and FBI in October, as you can see from the bottom photo with the FBI Director Jim Comey.