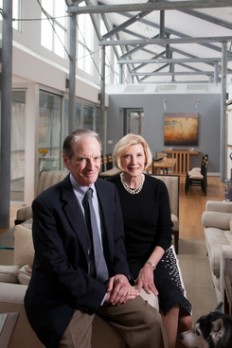 NAFUSA Past President (1992-1993) Dan Hedges, and his wife, Adele, were featured in the February 16, 2015, issue of the Texas Lawyer. The article entitled "Love in Law: Legendary Lawyer Couples Talk About Life and Love", the Hedges were one of two married couples of Texas lawyers profiled in how they have juggled their busy careers, raised families and found time to enjoy each other.
The Hedges first met when they were on opposing moot court teams in law school. Their relationship began when they were both associates at Fulbright & Jaworski in the 70s. Dan served as United States Attorney for the Southern District of Texas (1981-1985) and is currently a partner at Porter & Hedges in Houston. Adele served eleven years on the First Court of Appeals in Houston, and ten years as the Chief Justice of the Fourteenth Court of Appeals in Houston, retiring in 2013 to open an appeals and mediation practice in Houston.
Click here to read the article about the Hedges: Texas Lawyer Love in Law Digital Edition 2_16_2015.