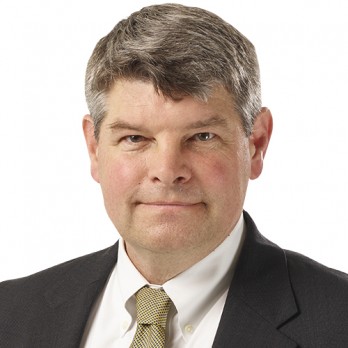 NAFUSA's newest member, Tristram J. Coffin, left his position as United States Attorney for the District of Vermont on January 12, 2015, to join the northern New England law firm Downs Rachlin Martin PLLC as a director in the Burlington office.
At DRM, Coffin will represent clients in significant civil and criminal litigation both within Vermont and outside of the state. He will assist clients with internal and external investigations in areas such as health care, corporate fiduciary duties, government contracting and securities.
Except for three years in private practice in 2006-2009, Coffin has spent the last 17 years in the U.S. Attorney's Office for the District of Vermont, including the past six years as chief prosecutor. Coffin was appointed to the post in 2009 by President Barack Obama. From 2009 to his departure, Coffin served as co-chair of the Subcommittee on Criminal Practice of the U.S. Attorney General's Advisory Committee, dealing with key issues facing the Department of Justice, including discovery reform, charging standards, sentencing issues, agency tape recording policy, Giglio reform and grand jury practice. He also served on the AGAC Health Care Fraud Working Group, the Cyber Crime Working Group and the Cross Border Crime Forum, addressing issues of U.S.-Canada law enforcement and cooperation.
A graduate of Wesleyan University and the Columbia University School of Law, Coffin was counsel to the Subcommittee on Technology and the Law of the U.S. Senate Judiciary Committee, where he worked closely with Vermont Senator Leahy. In that capacity, Coffin assisted the Senator with policies regarding crime, civil rights and court legislation, hi-tech antitrust issues, the Northeast Interstate Dairy Compact, and the approval of three nominees to the U.S. Supreme Court and many executive and judicial branch nominees, among other matters.
The 60-plus attorneys at DRM apply creativity, connections and experience to solve the toughest legal problems. From offices located in Vermont and New Hampshire, DRM represents regional, national and international entrepreneurs, venture capitalists, technology businesses and Fortune 100 companies. The legal services provided by the firm include bankruptcy and business restructuring, general business, captive insurance, renewable energy and telecommunications, health law, intellectual property, labor and employment, litigation, real estate and land use, environmental,tax, and trusts and estates, plus legislative and regulatory services through the firm's Government and Public Affairs group. DRM is the exclusive member firm in Vermont for Lex Mundi – the world's leading network of independent law firms with in-depth experience in more than 100 countries worldwide.