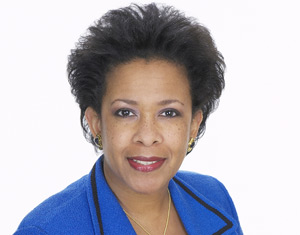 As Loretta Lynch, President Obama's nominee to succeed Eric Holder as Attorney General, awaits confirmation hearings scheduled to begin before  the the Senate Judiciary Committee on January 28 and 29, Matt Apuzzo on The New York Times profiled her in today's paper.
In an article entitled Nominee for Attorney General Less an Activist Than Holder, Apuzzo writes,
Ms. Lynch, President Obama's nominee to become the next attorney general, is easy to misread. Mr. Obama predicted that she would carry on the legacy of Eric H. Holder Jr., an African-American who proudly declared himself an activist and became the administration's most outspoken voice on race.

But while Ms. Lynch shares Mr. Holder's views on issues such as the strained relations between the police and minorities, her friends and colleagues describe someone cautious and comfortable staying in the background who sees her role as that of a traditional prosecutor and not a civil rights advocate. Those differences are likely to become clear when confirmation hearings on her nomination begin in the Senate in the next few weeks.
The Times quotes Ronald T. Hosko as one of "Mr. Holder's most vocal critics." Hosko is president of the Law Enforcement Legal Defense Fund and a former assistant director of the F.B.I. Hosko offered only praise for Lynch,
Mr. Hosko said his old colleagues had told him to expect an aggressive prosecutor and a reluctant political figure.

"It was all very, very positive," he said. "I haven't heard any reports that she's weak in the knees, that the office is afraid."
The Times also quotes Paul Fishman, the United States Attorney for the District of New Jersey, "It's never about Loretta, said Fishman. "It's always about the work."
As Lynch awaits the Senate hearings, Sally Yates also awaits confirmation as the Deputy Attorney General. Jim Cole has left the Department to return to private practice. Eric Holder has announced, however, that he will remain in office until his successor is confirmed.