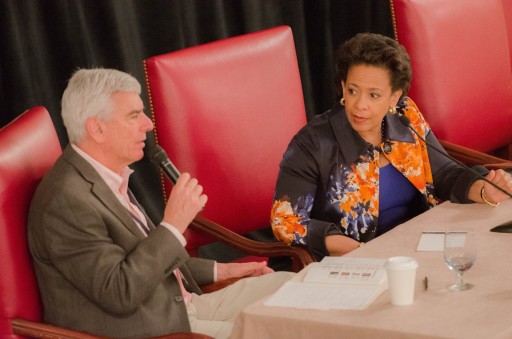 The White House confirmed today that President Barack Obama will nominate Lorreta Lynch, United States Attorney for the Eastern District of New York, to be the next Attorney General. Lynch, a former member of NAFUSA, is the chair of the Attorney General's Advisory Committee, and is serving her second turn as the chief federal prosecutor in Brooklyn. The New York Times noted that
If Ms. Lynch is confirmed, it would be the first time in nearly two centuries that a president had elevated a United States attorney directly to the position of attorney general. The last time was in 1817, when President James Monroe chose William Wirt, the top prosecutor in eastern Virginia, for the job.
Lynch spoke to the NAFUSA conference last month in Boston, engaging in a dialogue with then NAFUSA President Don Stern, as shown above.  Lynch was appointed by President Clinton as the U.S. Attorney for the Eastern District of New York, serving from 1999 to 2001. Before returning to the office as United States Attorney in 2012, she was a partner in the New York office of Hogan & Harston, L.L.P. She earned her college and law degrees at Harvard.
Eric Holder announced in September that he would be stepping down as soon as his successor can be named and confirmed. Shortly thereafter, Deputy Attorney General James Cole also announced he would be leaving. NAFUSA member Joe Whitley was interviewed by CBS on September 25 about Holder's resignation, stating that Holder was a good friend who will be remembered as having done a good job. Click here to watch Whitely's CBS interview.