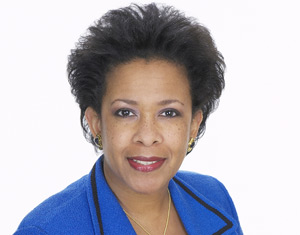 On Saturday, November 8, 2014, in a ceremony at the White House, President Obama announced the nomination of Loretta Lynch to succeed Eric Holder as the Attorney General of the United States. Lynch is serving her second turn as the United States Attorney for the Eastern District of New York and is also the chair of the Attorney General's Advisory Committee.
Lynch received her A.B., cum laude, from Harvard College and her J.D. from Harvard Law School. She joined the Brooklyn office of the Untied States Attorney in 1990, and prosecuted white collar crime and public corruption cases. She served as chief assistant to United States Attorney Zachary Carter, and was a member of the trial team in the civil rights case involving the sexual assault by New York City police officers upon Haitian immigrant Abner Louima. In the photograph below, she is shown in 1999 with Carter (left), now the New York City corporation counsel and NAFUSA board member, and Alan Vinegrad (far right), another member of the Louima trial team who also served as U.S. Attorney in the EDNY (2001-2002) and is a member of NAFUSA.
Lynch was appointed by President Clinton to succeed Carter as the U.S. Attorney for the EDNY, serving from 1999 to 2001. Before returning to a second term as United States Attorney in 2010, she was a partner in the New York office of Hogan & Harston, L.L.P.
In Saturday's ceremony at the White House, also attended by Attorney General Holder, President Obama said Loretta Lynch "might be the only lawyer in America who battles mobsters and drug lords and terrorists, and still has a reputation for being a charming people person."
In Sunday's "Quotation of the Day" in The New York Times, Zach Carter said: "She really is the soul of grace under pressure."