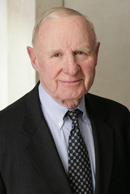 NAFUSA member Robert B. Fiske, Jr. has published his memoirs: Prosecutor Defender Counselor. Fiske served as United States Attorney for the Southern District of New York (1976-1980) after earlier serving as an assistant in the office from 1957-1961. Fiske served on the Attorney General's Advisory Committee (1976-1980; Chairman 1978). He also served as the first "special prosecutor" in the Whitewater controversy and the investigation into the death of White House Counsel Vincent Foster.
Fiske is a senior law partner at Davis Polk, where he was a partner for more than 40 years. He has represented many high-profile clients during his career, including the defense of the National Football League in an antitrust suit; representation of Clark Clifford and Robert A. Altman in the BCCI scandal; the defense of Exxon in the investigations of the oil spill into Arthur Kill in New Jersey; representation of A. Alfred Tubman in the price-fixing investigation of Sotheby's;  representation of Sanjay Kumar of Computer Associates International, Inc.; and the defense of Babcock and Wilcox in the Three Island case.
Fiske is a past president of the American College of Trial Lawyers and the Federal Bar Council. He received his JD from the University of Michigan Law School.
His memoirs has just been published by Smith/Kerr and is available on Amazon in hardcover for $18.82.
"Bob Fiske is a role model for anyone engaged in public service or in the private practice of law. I have long admired, and sought to emulate, his rare combination of legal skill, personal integrity and good judgment. His life story is an inspiration to all Americans, not just those directly involved in the private or public practice of law."
-SENATOR GEORGE J. MITCHELL