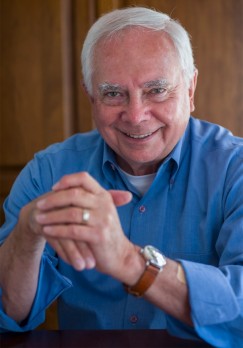 NAFUSA Executive Director Rich Rossman is one of the organizers of the James K. Robinson Scholarship Event to be held on Friday, September 26 at the London Chop House in Detroit. The purpose of the event is to raise additional funds for the endowed scholarship that Robinson created to help students at the Wayne State Law School, where Robinson, a past president of NAFUSA, had served as dean. Robinson passed away in 2010 after a three year bout with cancer.
On September 8, 2014, the Detroit Legal News profiled Rossman's career. He served as Robinson's chief assistant when Jim was the United States Attorney in Detroit (1977-1980). Rich then succeeded Jim in 1980. Rossman followed Robinson to Washington and served as Jim's chief of staff in the Criminal Division, 1998-1999.
The Legal News points out that Rossman will be attending his 50th law school reunion this weekend at The University of Michigan Law School and will be among the 50 year honorees at the Michigan State Bar Association the following weekend in Grand Rapids. In a year of 50s, Rich and Patty will celebrate their 50th wedding anniversary in January.
Click here to read about Rich's career: Remembrance: Head of U.S. Attorneys helps pay tribute to late dean.
Anyone interested in attending the Robinson Scholarhip Event or making a contribution can contact Rich.