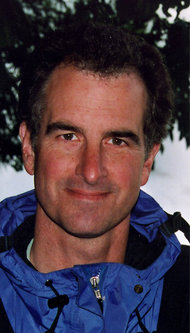 Tom Wales was a celebrated and very well-regarded Assistant United States Attorney in the Western District of Washington who was murdered on the evening of October 11, 2001 as he sat working at his computer in the basement of his residence in Seattle. A gunman standing in the yard fired into the basement window of Tom's home office in what can only be characterized as an assassination. Tom was hit with multiple rounds, but managed to phone 911 before losing consciousness.
The killer was familiar with both Tom's property and his work habits, and was careful to avoid setting off floodlights in the yard that were attached to motion detectors, leading investigators to conclude that it was a carefully planned execution. One investigator observed that, "This may be as close as you come to a perfect murder, . . . the only physical evidence left behind was the bullets and shell casings, and nothing else." The only witnesses to the crime heard several shots and then saw a man walk quickly down the sidewalk in front of the Wales house, get into a parked car, and drive away. It is widely believed that the murder was in retaliation for Tom's work as an Assistant United States Attorney and was perpetrated or arranged by the target of a criminal investigation. If so, Tom would be the first AUSA in the history of our country to be killed in the line of duty.
Most media reports indicate that the focus of the criminal investigation of Tom's murder is on someone he had prosecuted for a white collar crime, an individual who was accused of falsifying aviation records submitted to the FAA. The Wales' case has not been solved and the prosecutors believe that until someone comes forward and talks, the case will never be prosecuted.
Shortly after AUSA Wales' murder, DOJ offered a reward of $1,000,000 for information leading to the arrest and conviction of the person who committed this crime. The NAFUSA Foundation is leading a drive to raise another $1,000,000 to match the reward offered by the Department of Justice. The Foundation has been working closely with the head of the FBI task force, Special Agent Russell E. Fox, who says that should the Foundation be able to raise an additional $1 million for a reward, his efforts will be greatly enhanced.
The Foundation has set a goal of raising $1 Million in pledges by December 31, 2014. More than $360,000 has already been pledged by prominent firms, including Williams & Connolly ($100,000), DLA Piper ($100,000), Perkins Coie ($100,000), as well as NAFUSA ($25,000). Several NAFUSA board members have made individual pledges. These are just pledges.  Payments will be made only if someone comes forward with information leading to the arrest and conviction of Tom's murderer(s) and only after the DOJ determines that the person providing the information qualifies for payment of the reward funds put up by the United States government.  And if this occurs, payments will be made through the NAFUSA Foundation, a 501(c)(3) entity.
We encourage your firm or company to make a pledge, or make an individual pledge. Foundation President Mike McKay (U.S. Attorney, WDWA, 1989-1993) is happy to answer any questions and provide pledge forms (mdm@mckay-chadwell.com).  Special Agent Fox is also available to talk about how an increased reward fund would help his team's efforts to find the person or persons behind AUSA Tom Wales' murder.
Relevant articles:
The Search for the Killer of Tom Wales Goes On (The Atlantic)
New Push for Help in Solving a Prosecutor's 2001 Murder (New York Times)
An Unsolved Killing (The New Yorker)
Continued resolve to find Thomas Wales' killer (Seattle times)
Holder reiterates resolve to find Thomas Wales' killer (Seattle Times)
Daughter to Seattle fed prosecutor's killer: 'I'm not afraid of you' (Seattle P.I.