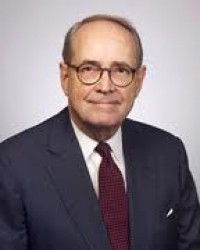 According to a report in Reuters on Sunday, June 22, 2014, NAFUSA member Dick Thornburgh, a former U.S. attorney general, two-term Pennsylvania governor, and U.S. Attorney for the WD of Pennsylvania, 1969-1975, has been hospitalized in Pittsburgh.
Thornburgh, 81, who served as U.S. attorney general under President Ronald Reagan and President George H.W. Bush, suffered a mild stroke on Saturday, the Pittsburgh Tribune-Review reported, citing Thornburgh's wife, Ginny Thornburgh.
"He is resting comfortably and receiving excellent care at UPMC Presbyterian," Thornburgh's family said in a statement released through the hospital. "He is awake, alert and looking forward to a full recovery."
On July 10, 2014, Dick Thornburgh's assistant at K&L Gates provided this update:
Dick Thornburgh is undergoing rehab at UPMC/Mercy hospital in Pittsburgh.  He is doing well and he is receiving excellent care from dedicated and caring professionals and his condition appears to be on an upward trajectory.  Within the next ten days or so he expects to have a better fix on his future prospects.