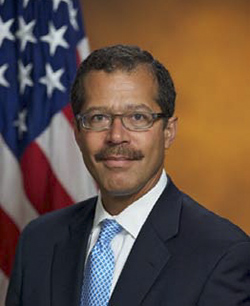 Monty Wilkinson was appointed Director of the Executive Office for United States Attorneys (EOUSA) by Attorney General Holder on March 29, 2014, succeeding the retiring Marshall Jarrett. The Executive Office, created in 1953, provides general guidance and support to the 94 United States Attorneys' offices and its nearly 10,000 employees.
Prior to being appointed Director, Wilkinson served as the Principal Deputy Director and Chief of Staff of EOUSA.  He previously served as Counselor and Deputy Chief of Staff to the Attorney General, an Associate Deputy Attorney General, and held senior management positions for nearly a decade in the United States Attorney's Office for the District of Columbia.  Wilkinson started his career at the Department of Justice as a trial attorney in the Criminal Division, serving in the Narcotic and Dangerous Drug Section and the Organized Crime and Racketeering Section.
In announcing the appointment, Attorney General Holder said,
Monty is a tremendous asset to the Department, and I am grateful he has agreed to take on this enormous responsibility. I look forward to continuing to work closely with him and the U.S. Attorneys as we continue our critical mission to provide justice for the American people.
Wilkinson is a graduate of Dartmouth College and the Georgetown University Law Center.