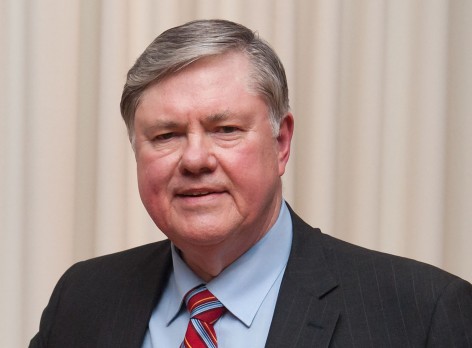 After retiring as Chief Judge of the 19th Judicial Circuit of Lake County, Judge Fred Foreman is returning to private practice to serve as Senior Counsel at Freeborn & Peters LLP in the firm's Government & Regulatory Law Practice Group and Complex Litigation & Antitrust Team. Judge Foreman previously worked at the Chicago-based firm as a civil litigator, including service as outside counsel on behalf of the State of Illinois v. Philip Morris, et al. and as special counsel in representing state officials and state agencies. Judge Foreman has tried more than 200 cases in federal and state courts and previously served as United States Attorney for the Northern District of Illinois from 1990-1993 and as States Attorney of Lake County from 1980-1990, where he was elected to three terms.
Judge Foreman's experience includes trials involving antitrust, securities, RICO, environmental, constitutional law, civil rights, fraud and murder. He has extensive experience in advising clients on matters pending before state and federal regulatory agencies and has successfully assisted clients in passing legislation before the state legislature and units of local government. He has supervised numerous corporate internal investigations and represented clients throughout the world on matters of corporate espionage, electronic intrusions and theft of intellectual property.
 Judge Foreman said:
I am looking forward to returning to Freeborn & Peters as Senior Counsel and assisting the firm's clients, as well as my own former clients, with legal solutions to business challenges and regulatory issues. I also hope to remain active as a member of the bar association committees in which I have involvement and other appointments that I may receive.
Judge Foreman also serves as a member of Senator Mark Kirk's Judicial Review Commission, a nonpartisan group composed of legal professionals from around the state. Part of the Commission's purpose is to screen applicants to fill judicial vacancies on the District Court for the Northern District of Illinois.
Judge Foreman participates in a number of pro bono activities, including serving as a member of the board of the Illinois Judges Association, as a member of the board of the Illinois Judges Association Foundation, and as a Past President and member of the Board of the Jefferson Inn. He has also served on the Board of the Lake County Bar Association. Judge Foreman is a graduate of The John Marshall Law School.
Freeborn & Peters LLP is a full-service law firm, headquartered in Chicago, with international capabilities. For more information, visit: www.freeborn.com.