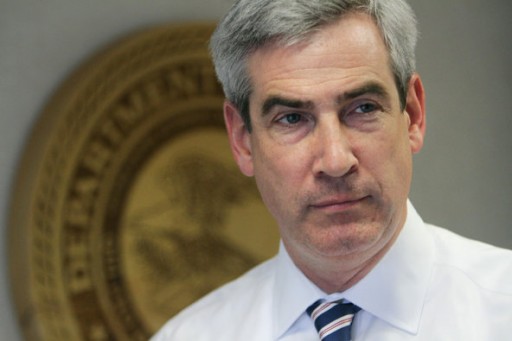 Davis Polk & Wardwell LLP  announced that Neil MacBride, former U.S. Attorney for the Eastern District of Virginia, 2009-2013, has joined the firm as a partner in its Washington office. Today is MacBride's first day at Davis Polk and his first day as a member of NAFUSA.
Before his appointment as U.S. Attorney, MacBride served as associate deputy attorney general at the Department of Justice in 2009. He also served as chief counsel and staff director for then-Senator Joseph R. Biden, Jr. from 2001 to 2005 on the Senate Judiciary Committee.  From 1997 to 2001, MacBride served as an assistant U.S. attorney in the District of Columbia.  During his time as an AUSA and as U.S. Attorney for EDVA, he conducted more than 25 jury trials.
In joining Davis Polk, MacBride said,
Davis Polk is one of the world's great law firms, and one of the few remaining true and lockstep partnerships.  Its white collar and government investigations practice has long been one of the most respected in the world.  I am thrilled to be joining Davis Polk and developing the firm's increasingly important presence in the nation's capital and I look forward to working with my new partners in advising our clients on their most difficult criminal, congressional and regulatory problems.
In announcing MacBride's addition to the firm, Davis Polk stated:
Mr. MacBride's tenure as U.S. Attorney for the EDVA was universally regarded as extremely successful.  He led the office in bringing cases of national and international significance, involving financial fraud, international corruption, copyright infringement and trade secret theft, defense procurement fraud, money laundering, terrorism and cybersecurity.  Some of the most significant matters during his tenure involved the Foreign Corrupt Practices Act, the Securities Act of 1933, the Securities Exchange Act of 1934, the Wire and Mail Fraud statutes, the Computer Fraud and Abuse Act, the Electronic Communications Privacy Act, the Arms Export Control Act, the False Claims Act and the Federal Tort Claims Act.
Davis Polk is a global law firm and has approximately 900 lawyers in offices in New York, Menlo Park, Washington DC, São Paulo, London, Paris, Madrid, Hong Kong, Beijing and Tokyo.  For more information: http://www.davispolk.com.