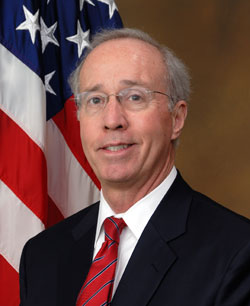 H. Marshall Jarrett, director of the Executive Office for United States Attorneys (EOUSA), announced his retirement yesterday. Jarrett was appointed director of EOUSA on April 13, 2009.
Prior to assuming the position of director, Jarrett served as counsel for the Office of Professional Responsibility, where he supervised investigations of professional misconduct by Department of Justice attorneys. He has served as an associate deputy attorney general and as deputy chief of the Public Integrity Section. In addition, he has served as chief of the Criminal Division in the U.S. Attorney's Office for the District of Columbia and as criminal chief and first assistant U.S. attorney in the U.S. Attorney's Office for the Southern District of West Virginia.
In an email announcing his retirement to the current U.S. Attorneys, Jarrett reflected on his career and the good fortune he has had to work with so many remarkable people. In his email, Jarrett said:
I've had the privilege to serve with the most talented and dedicated public servants in the country.  I will miss coming to work each day and standing shoulder to shoulder with you and our other extraordinary colleagues throughout the United States Attorneys' community to help ensure that justice is served for the American people. In particular, it has been extremely gratifying to witness firsthand your perseverance, dedication, and commitment to excellence during a very challenging period.
Jarrett is a recipient of the Edmund J. Randolph Award for outstanding service to the Department of Justice and has been conferred the rank of meritorious executive in the senior executive service. He has also received a Presidential Rank Award for his meritorious executive service.
Jarrett also served as deputy director of the enforcement division of the Commodity Futures Trading Commission and as a deputy attorney general for the Commonwealth of Pennsylvania. He is a graduate of the West Virginia University College of Law.