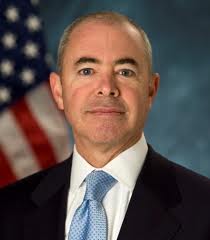 On Friday, December 20, 2013, the United States Senate voted 54-41 to confirm NAFUSA member Alejandro Mayorkas as the Deputy Secretary of the Department of Homeland Security, the second-ranking official at DHS. Mayorkas had served as the Director of United States Citizenship and Immigration Services (USCIS) since 2009 until his confirmation as deputy secretary. He was a participant on the NAFUSA panel on immigration at the Atlanta conference in 2012.
He served as the United States Attorney for the Central District of California 1999-2001. At the time of his appointment by President Clinton, Mayorkas became the youngest U.S. Attorney to serve the nation at that time.
Prior to becomming the director of USCIS, Mayorkas was a partner in the law firm of O'Melveny & Myers LLP. He served as a member of firm's worldwide governing Policy Committee. In 2008, the National Law Journal recognized Mayorkas as one of the "50 Most Influential Minority Lawyers in America." He was born in Havana, Cuba and is a graduate of Loyola Law School.
In the lead editorial in The New York Times on December 26, 2013, Homeland Security's New Chief, The Times urges the the newly confirmed DHS Director Jeh Johnson to bring immigration enforcement into balance and gives favorable mention to the Mayorkas appointment:
Mr. Johnson has little experience with immigration. But the homeland security deputy secretary confirmed on Friday, Alejandro Mayorkas, does. Mr. Mayorkas is the director of Citizenship and Immigration Services, the agency within homeland security that handles legal immigration. Under Mr. Mayorkas's capable leadership, it has done a good job in managing the deferred-action program. Mr. Mayorkas, an immigrant himself, looks to be an excellent partner for Mr. Johnson in beginning the formidable job of bringing the department's immigration policies and practices into line with its mission.