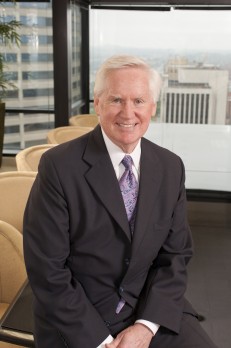 On August 12, 2013,  Bone McAllester Norton PLLC, announced that Ed Yarbrough, shown left, has joined the firm, creating a new division of Criminal Defense and Government Investigations.
"Our new division has been created to serve individuals and corporate clients facing criminal charges, investigations by federal and state authorities, regulatory enforcement actions, internal investigations and compliance audits," said Charles W. Bone, founder and chairman of Bone McAllester Norton.
Yarbrough is a former United States Attorney for the Middle District of Tennessee appointed by President George W. Bush.  He has more than 40 years of experience.  He practices criminal defense and government investigations, personal injury law and litigation and dispute resolution.
Yarbrough has tried more than 150 jury cases to verdict, including more than 40 homicide cases. He has served as both prosecuting attorney and defense attorney in matters involving white collar crime, wrongful death, personal injury, public corruption and a variety of criminal charges at the state and federal levels.
A former infantry lieutenant in the United Sates Army, Yarbrough's desire to be on the front lines has served him well in his civil and criminal law practice.  He has been recognized on numerous listings among the nation's top lawyers, like SuperLawyers and Best Lawyers in America.  He has been elected a fellow of the American College of Trial Lawyers and received the first Criminal Justice Section Service Award from the Tennessee Bar Association in 2011.
Bone McAllester Norton PLLC is a full-service law firm with 35 attorneys and offices in Nashville and Sumner County, Tennessee. Its attorneys focus on 16 distinct practice areas, providing the wide range of legal services ordinarily required by established and growing businesses and entrepreneurs. Among their practices, they represent clients in business and capital formation, mergers and acquisitions, securities matters, commercial lending and creditors' rights, commercial real estate and development, governmental regulatory matters, commercial litigation and dispute resolution, intellectual property strategy and enforcement, entertainment and environmental matters.   For more information, visit www.bonelaw.com.