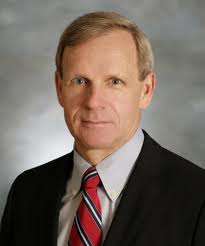 Gibson, Dunn & Crutcher LLP announced on September 13, 2013, that NAFUSA member Charles J. Stevens has returned to the firm in its San Francisco office as a partner. Stevens, a former Gibson Dunn partner, joins more than 40 former Justice Department lawyers at the firm, including NAFUSA members Ted Olson and Debra Yang.
Stevens will practice in the areas of government and internal investigations, compliance reviews, and white collar defense with focus on antitrust, health care fraud, False Claims Act (FCA), Foreign Corrupt Practices Act (FCPA) and procurement fraud, as well as related complex civil litigation alleging fraud, unfair competition and unfair business practices.
Stevens began his career as an associate with Gibson Dunn's Los Angeles office. He then served as an Assistant U.S. Attorney in the Public Corruption and Government Contract Fraud Unit in the Central District of California in Los Angeles. He returned to Gibson Dunn and became a partner in 1990.
In 1993, he was appointed U.S. Attorney for the Eastern District of California by President Clinton. Then 35 years old, he was one of the youngest U.S. Attorneys in the country. In this role, he oversaw the district's two offices and 150 employees and created and supervised the implementation of multiple initiatives, including affirmative civil enforcement of the False Claims Act, civil rights, health care fraud and political corruption. During his tenure, he was appointed by Attorney General Janet Reno to the Attorney General's Advisory Committee.
Following his service as U.S. Attorney, Stevens and NAFUSA member George O'Connell founded the boutique litigation firm, Stevens, O'Connell & Jacobs LLP, which focused on government and internal investigations. He spend the last year as a mediator with JAMS, one of NAFUSA's 2013 sponsors, focusing on matters involving government claims, such as the False Claims Act and teaching a mediation course U.C. Davis Law School. He has also taught classes in government investigations and professional responsibility. He is a 1982 graduate of University of California, Berkeley, School of Law, where he served as Senior Note and Comment Editor of the California Law Review.
Gibson, Dunn & Crutcher LLP is a leading international law firm. Consistently ranking among the world's top law firms in industry in industry surveys and major publications with 1,100 lawyers and 18 offices.