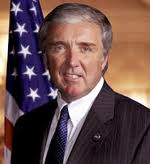 According to The Boston Globe, NAFUSA member Michael J. Sullivan announced today that he is "giving serious consideration" to running for the United States Senate in Massachusetts. The vacancy was created when John Kerry resigned the seat to become the Secretary of State. Sullivan is considered a formidable candidate if he enters the Republican primary
The Globe reports:
Sullivan stopped short of formally declaring his candidacy, instead saying he will allow volunteers to try to get him on the April 30 primary ballot by collecting 10,000 certified voter signatures by Feb. 27, a daunting task. He will not hire professionals to do the work, which is expensive but far more effective in such a short timeframe.
Sullivan served as the United States Attorney for the District of Massachusetts 2001-2009. He also served as acting director of Alcohol, Tobacco, Firearms and Explosives (ATF) and is currently a partner in The Ashcroft Law Firm in Boston.
Sullivan was Plymouth County District Attorney from 1995 to 2001. From 1991 to 1995, he served in the Massachusetts House of Representatives. Sullivan received his Juris Doctor from Suffolk University Law School.