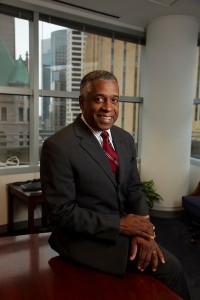 NAFUSA member B. Todd Jones has been nominated by President Obama to be the first permanent director of Alcohol, Tobacco, Firearms and Explosives (ATF) since 2006. Jones has been the acting director of ATF since August 2011. He has continued as the United States Attorney for the District of Minnesota and has served as the director of the Attorney General Advisory Committee (AGAC).
Jones took over the agency in the midst of the Fast and Furious controversy and, as reported in Huffpost Politics:
Jones tossed six of the top eight assistant directors at ATF's fortress-esque headquarters in the northeastern part of Washington, D.C. He placed restrictions on undercover ATF operations and instituted monthly oversight on larger investigations. He has called his ATF gig the hardest job he's ever had.

Asked whether agents would shy away from bigger gun trafficking cases because of worries such difficult cases could bring them under congressional scrutiny, Jones said the agency wouldn't back down from tough investigations.

'All we can do is get off the mat again and keep swinging,' he said.
No president has been able to get a nominee for ATF through the Senate since 2006, the first year Senate confirmation was required for the director of ATF.