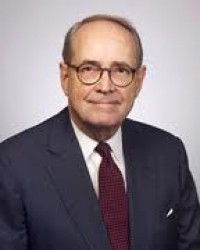 Former Attorney General of the United States (1988-1991) and NAFUSA member Dick Thornburgh, shown above, has published an article in the January/February 2013, The Pennsylvania Lawyer entitled  'Equal Justice Under Law': The Role of the Pro Bono Lawyer.
Thornburgh writes:
The aspiration emblazoned upon the facade of the U.S. Supreme Court — "EQUAL JUSTICE UNDER LAW" — cannot be achieved in a society that does not provide competent counsel to all who require it. Those in need cannot be left to sink or swim in an increasingly complex legal environment. We can be proud of the steps taken over the years by the legal profession to meet their needs.
Thornburgh also served as the United States Attorney for the Western District of Pennsylvania (1969-1975), Governor of Pennsylvania (1979-1987) and Under-Secretary General of the United Nations (1992-1993). He currently practices with K&L Gates in Washington.