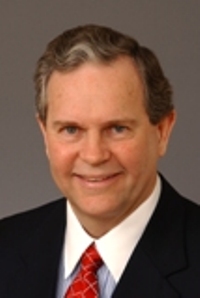 At the close of the Atlanta conference, the NAFUSA membership elected Jay Stephens, to serve as its president for 2012-2013. Stephens is senior vice president, general counsel and secretary of Raytheon Company. Raytheon, with 2011 sales of $25 billion and 71,000 employees worldwide, is a leader in defense, homeland security and other government markets worldwide. Stephens leads the company's legal and regulatory affairs, ethics and compliance programs, and corporate governance activities.
Prior to joining Raytheon, he served as associate attorney general of the United States. Before becoming associate attorney general, Stephens was corporate vice president and deputy general counsel for Honeywell International (formerly AlliedSignal). From 1993 to 1997, Stephens was a partner in the Washington, D.C., office of the law firm of Pillsbury, Madison and Sutro, where his practice focused on complex litigation, regulatory matters and corporate governance issues. He also served as co-managing partner of the firm's Washington office.
Stephens served as the United States Attorney for the District of Columbia, 1988-1993. From 1986 to 1988, Stephens served in the White House as deputy counsel to President Reagan, where he was responsible for a wide range of legal policy and regulatory issues and for providing counsel and advice to the President and senior White House staff.
From 1973 to 1985, Stephens served in a variety of positions with the U.S. Department of Justice and in the private sector, including principal associate deputy attorney general, assistant U.S. attorney and assistant special Watergate prosecutor. He also worked as an assistant general counsel with the Overseas Private Investment Corporation and as an associate with the Washington law firm of Wilmer Cutler & Pickering.
Stephens graduated from Harvard College magna cum laude and Phi Beta Kappa with a bachelor's degree in government, attended Oxford University on a Knox Fellowship, and earned his Juris Doctor degree cum laude from the Harvard Law School. He currently serves on the board of directors of the New England Legal Foundation and the Atlantic Legal Foundation. Stephens also serves on the advisory boards of the American Enterprise Institute's Legal Center for the Public Interest and the Georgetown Law School Corporate Counsel Institute, as well as on the General Counsel Committee of the National Center for State Courts, and as a trustee of the American Friends of New College, Oxford.
The following were also elected to serve for 2012-2013: President Elect Donald K. Stern, District of Massachusett; Vice President Matthew D. Orwig, ED of Texas; Secretary Gregory A. Vega, SD of California and Treasurer E. Bart Daniel, District of South Carolina.
Alice Howzwe Martin, ND of Alabama was elected to fill the vacancy on the board in the class of 2013 due to Bart Daniels moving to the chairs. The following were elected to the the board as the class of 2015: Kent B. Alexander, ND Georgia; William J. Leone, District of Colorado; Kenneth L. Wainstein, District of Columbia; Donald W. Washington, WD of Louisiana and Sharon J. Zealey, SD of Ohio.  Click here for photos of officers and directors.
Finally, it was announced that the 2013 conference will be held in Washington, DC on September 26-28 and the 2014 conference in Boston on October 9-11.