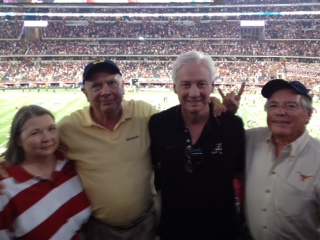 A group of NAFUSA board members held an "executive retreat " when Hal Hardin and Dallas resident Susan Adzick hosted a Texas style weekend at Susan's home over the Labor Day weekend. The prime event was the "Cowboy Classic", the kickoff of the college football season at Cowboy Stadium.
Much to Rich Rossman's dismay and despair, the defending national champion Alabama team lived up to its "Roll Tide" reputation, handing Michigan (soon to lose its preseason top ten ranking) its worse opening day loss ever.
In the photo above, Rich shows he is a good sport congratulating Bama fans Kathy Collier Selden and Jack Selden on the victory. Somehow Longhorn fan Ron Woods snuck into the game. Michigan fan Rick Deane texted his disappointed to Rich during the game. Doug Jones called Jack and urged the Tide to continue to roll.
Below we see the remainder of the NAFUSA block at the game: hostess Susan Aldzick, host Hal Hardin (both Vanderbilt fans), Patty Woods (LSU fan) and Patty Rossman (party fan and Michigan booster). When Alabama rolled up a 31-0 lead in the first half, this group spent the remainder of the game in the bar.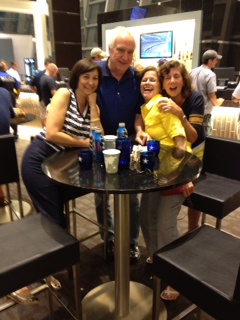 On Friday evening, Matt and Melissa Orwig joined the "retreat" at a cocktail reception at Susan's home, catered by Chef Richard Chamberlain, shown below, one of America's leading chefs and particulary admired by the ladies.