On May 8, 2012, former U.S. Attorney and NAFUSA member Susan W. Brooks won the Republican nomination to replace retiring Rep. Dan Burton in Indiana's 5th District Congressional race. Brooks finished first in a field of eight in the GOP primary. She will face her Democratic opponent in November.
For the last four years, Brooks served as senior vice president and general counsel for Ivy Tech Community College.  She serves on the State Workforce Innovation Council, the BioCrossroadsLINX Board, the TechPoint board, the Indiana Chamber of Commerce Ready Indiana Board, and the Indiana University Public Policy Institute.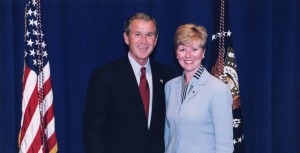 In 2001, President George W. Bush appointed Susan as U.S. Attorney for the Southern District of Indiana, where she served for six years.
From 1998-99, Brooks served as deputy mayor of Indianapolis, focused on public safety and social issues. In addition to oversight of police, fire, and emergency response activities, she represented the City of Indianapolis on numerous boards related to criminal justice, community corrections, violence reduction, race relations, and programs of the United Way of Central Indiana, among others.
From 1999-2001, Susan practiced law at the Indianapolis law firm of Ice Miller in the Government Services Practice Group.  Brooks has also practiced as a criminal defense attorney at the Indianapolis law firm of McClure, McClure and Kammen.
Susan has devoted countless volunteer hours to numerous civic and community efforts, including service on the following boards:  St. Vincent Hospital, the Children's Museum, Women's Fund of Central Indiana, Indiana Youth Institute, Indiana University School of Law-Indianapolis Board of Visitors, Indianapolis Neighborhood Housing Partnership, Junior League of Indianapolis, and Carmel Library Foundation.  She co-chaired the NCAA 2011 Women's Final Four.
Brooks is a graduate of the Indiana University Indianapolis School of Law. She currently resides in Carmel with her husband, David, and two children.