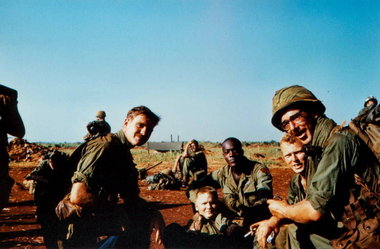 NAFUSA member and former board member Patrick McLaughlin, shown left in Vietnam in 1967, has contributed to a recently published book "Dogface Charlie." As reported in The Plain Dealer on May 17, 2012, the book traces the experiences of the soldiers of Charlie Company during the war in Vietnam. The "book's nearly three dozen contributors include the wives, widows and other family members of these soldiers, all providing vignettes of their experiences during the war."
In one of two contributions to the book, McLaughlin writes:
In an irrigation ditch running across our path, less than 15 meters from me in my row, I see the barrel of a ChiCom machine gun pointed right at the bulls-eye on my chest. It resembled a howitzer. Behind that barrel in total command of the gun and the situation was an NVA soldier. He waited till my eyes met his, pleased by the shock he saw in my face. He lifted his head, broke out in a big sinister smile and pulled the trigger. His smile was gone. He and I both knew that his target was a dead man.
"Dogface Charlie" is available for $20 throught the publication section of FirstDivision Museum.org.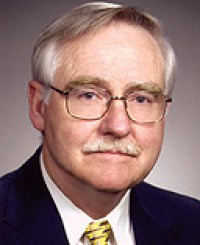 McLaughlin, shown more recently left, served as the U.S. Attorney for the Northern District of Ohio, 1984-1988. He currently practices law at McLaughlin & McCaffrey. LLP in Cleveland. He served in the United States Army, SSG, inf (1966-68) and the U.S. Army Reserves, Maj, JAG (1974-88). He graduated from Case Western Reserve University School of Law.