At the New York NAFUSA conference in 2010, New York Times reporter Charlie Savage moderated a panel discussion on the appropriate forum in which to prosecute terrorism cases.  A lively debate ensued as to whether such cases should be brought in Article III courts in the United States or before military tribunals. The panel included NAFUSA member Captain David Iglesias, shown below, currently a military commissions prosecutor in Guantanamo. His earlier experiences as a Navy JAG at Guantanamo was the inspiration for Aaron Sorkin's play "A Few Good Men," later a successful movie. Iglesias served as the United States Attorney in New Mexico 2001-2007. He is the author of "In Justice: Inside the Scandal That Rocked the Bush Administration."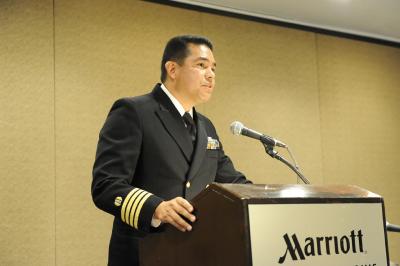 In a Times article on February 23, 2012, entitled Iraqi Prisoner Tied to Hezbollah Faces U.S. Military Charges, Savage reports on an interesting new development. The United States has approved military commission charges against a Lebanese man accused of helping kill U.S. military troops in Iraq. Never before has the government used the current military commission approach against a defendant who is not accused of being part of the war with Al Qaeda. Furthermore, the defendant remains in custody in Iraq and it is unclear whether he will be extradited to the U.S., and whether, if he is extradited, where the trial would take place. Savage previously reported on December 11, 2011, on the dilemma that faced the U.S. regarding this prisoner when the U.S. withdrew from Iraq. See Detainee Poses Dilemma For U.S. As U.S. Exit Nears.
As for foreigners suspected of being Al Qaeda operatives, the battle between the Obama administration and Congress over whether to hold such suspects in military custody or in the civilian criminal justice system continues. See the Savage article in the February 28, 2012, Times article entitled Obama Issues Waivers on Military Trials for Terror Suspects..