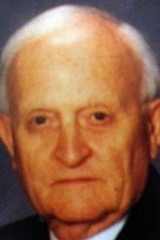 NAFUSA recently learned that H.M. Ray, who served 20 years as the United States Attorney for the Northern District of Mississippi, passed away on May 18, 2011 at the age of 86. Ray, who was nominated by John F. Kennedy in 1961, died at his home in Tupelo, Mississippi. He served under two additional Democratic administrations and two Republicans until he resigned in 1981. Ray served as chair of the Attorney General's Advisory Committee (AGAC) 1976-77. He was a long time member of NAFUSA.
Ray served in the Army Air Corps, where he flew bombing missions in World War II. He earned his law degree at the University of Mississippi and served as a state representative from 1948 to 1951. He resumed his military service as an intelligence officer in the Air Force during the Korean War.
His survivors include sons Howard Manfred Ray of Skokie, Ill., and Mark Andrew Ray of Tupelo.