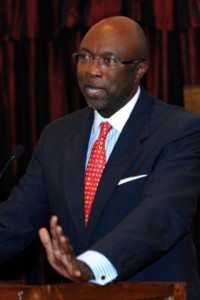 On Saturday, October 1, 2011, Richard H. Deane, Jr., became the 32nd president of NAFUSA. At the concluding banquet of the Santa Fe conference, Rick was introduced by outgoing president Bill Lutz. Rick promply lauded the job done by Bill and his wife, Jeanne, in organizing the outstanding conference in New Mexico. Rick then presented Bill with a NAFUSA's gift of a high powered telescope to view the New Mexico skies above Bill's home in Las Cruces.
Rick Deane served as United States Attorney for the Northern District of Georgia, 1998-2001. He was also a Magistrate Judge, U.S. District Court for the Northern District of Georgia. He previously served as an Assistant United States Attorney in the District from 1980-1994. Rick is currently a partner in the Atlanta office of Jones Day, where he is co-chair of the Firm's Corporate Criminal Investigations Practice and a member of the American College of Trial Lawyers.
On Saturday evening, the following officers for 2011-2012 were elected: President Elect: Jay Stephens, District of Columbia; Vice President: Don Stern, Massachusetts; Secretary: Matt Orwig, ED Texas; Treasurer: Greg Vega, SD California; Immediate Past President: Bill Lutz, New Mexico.
The new directors elected for the term ending 2014 were: Paul Coggins, ND Texas; Karen Hewitt, SD California; Doug Jones, ND Alabama; Tom Maroney, ND New York; and Ron Woods, SD Texas.